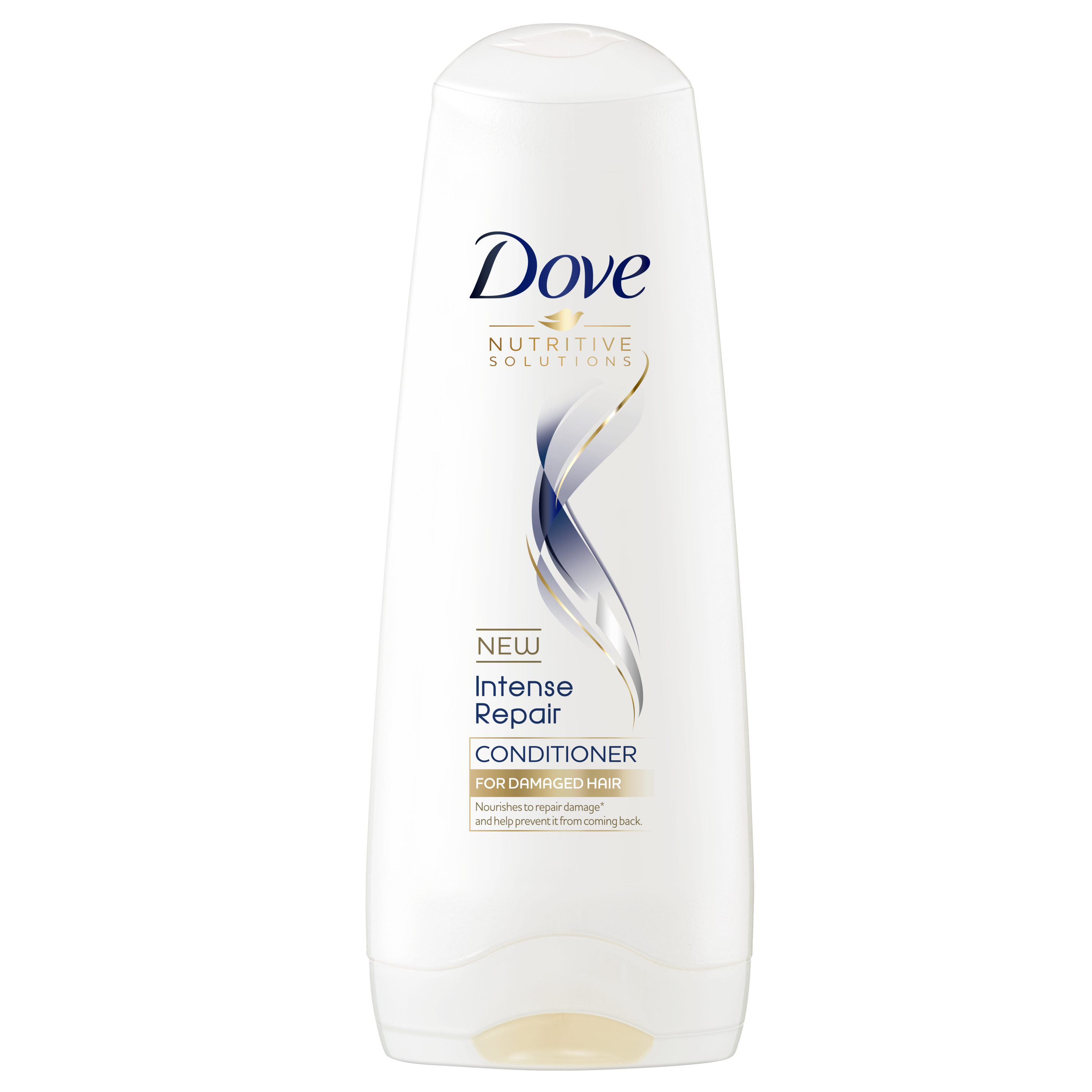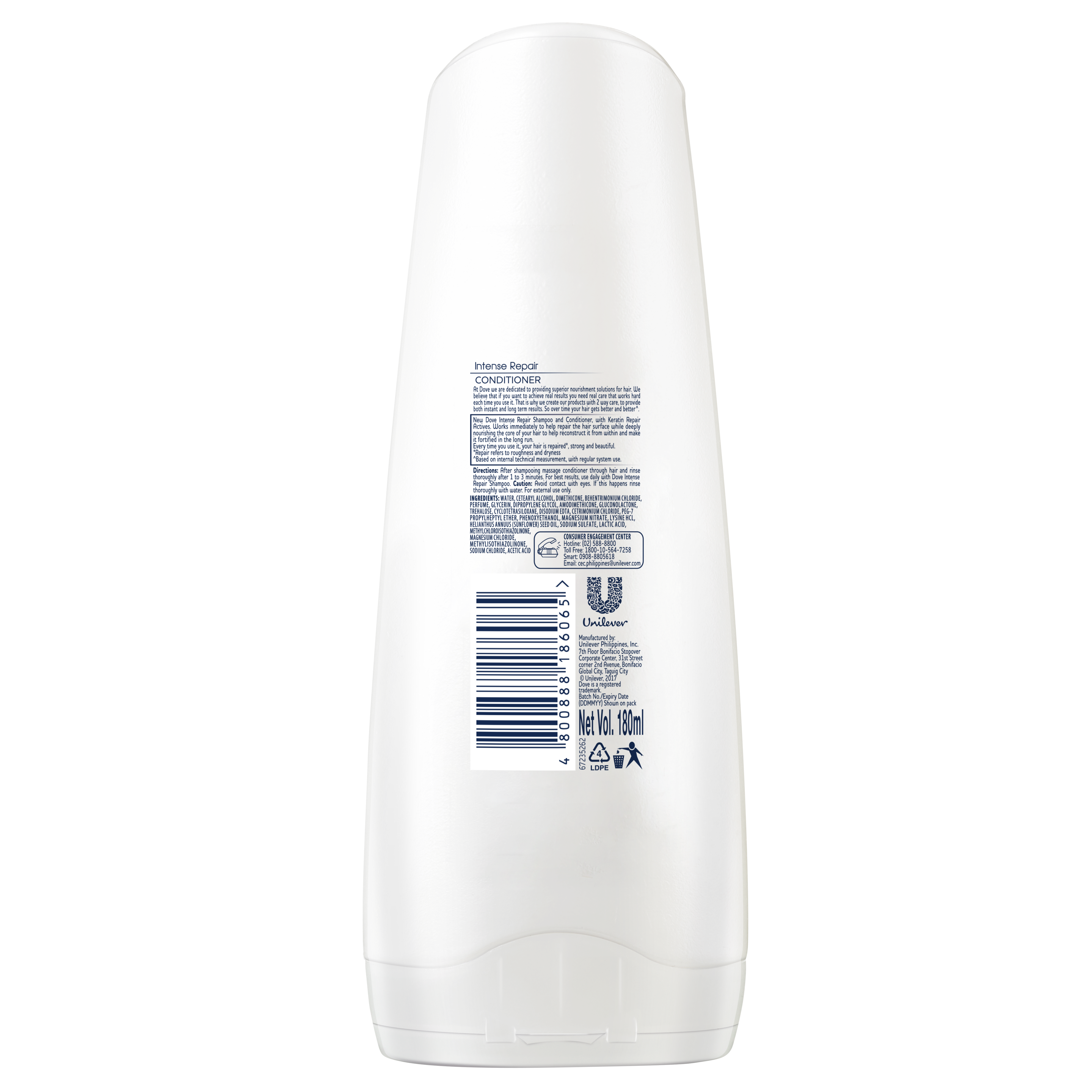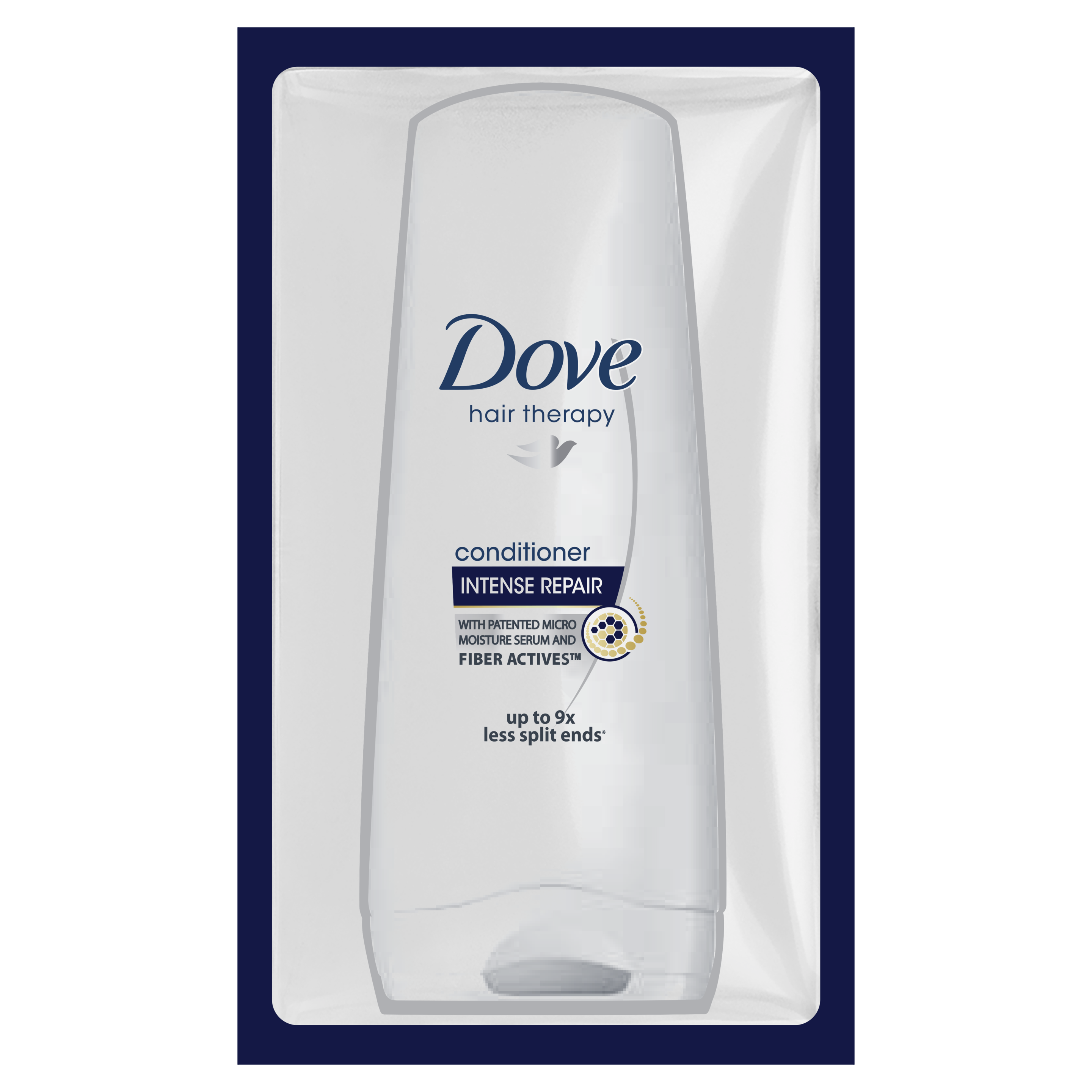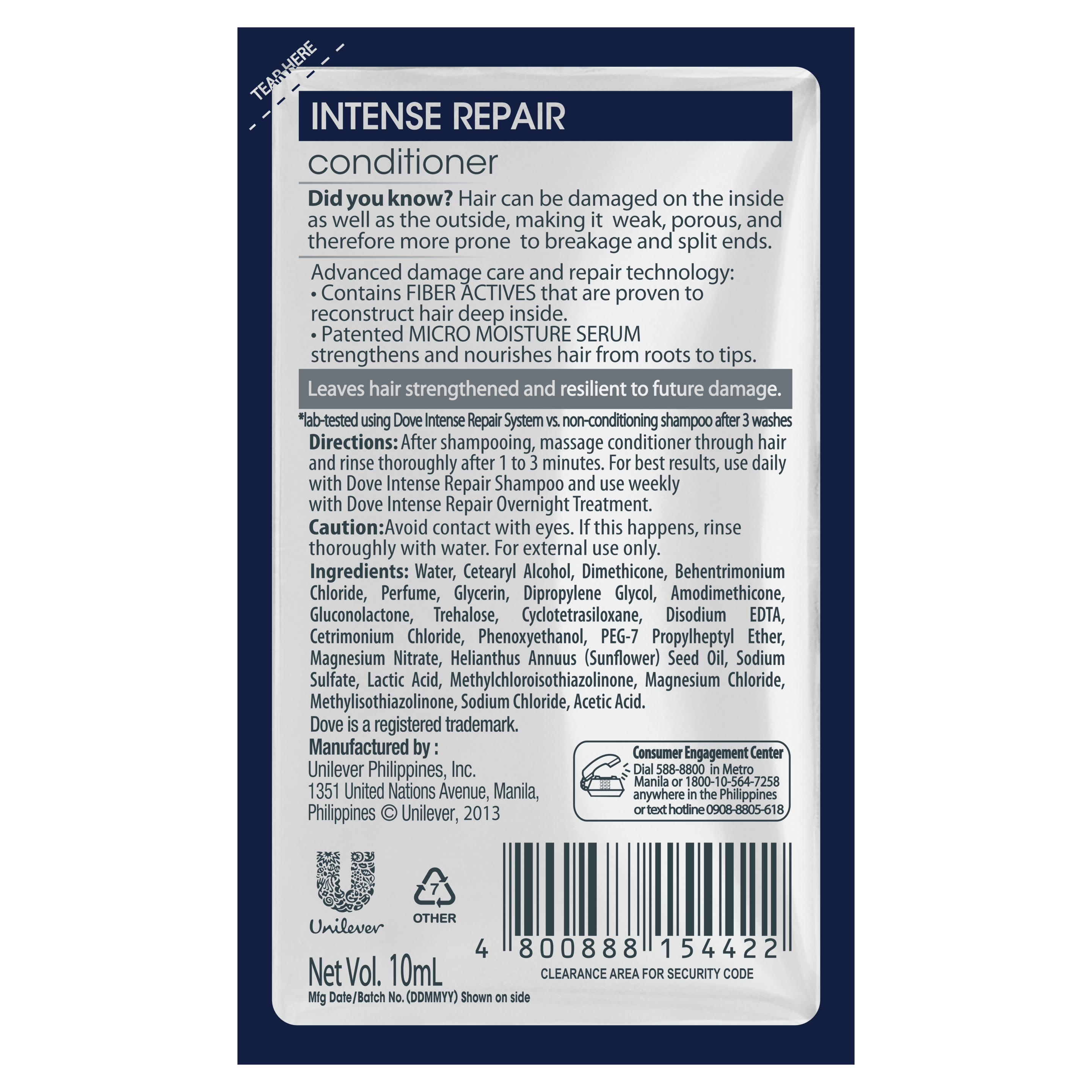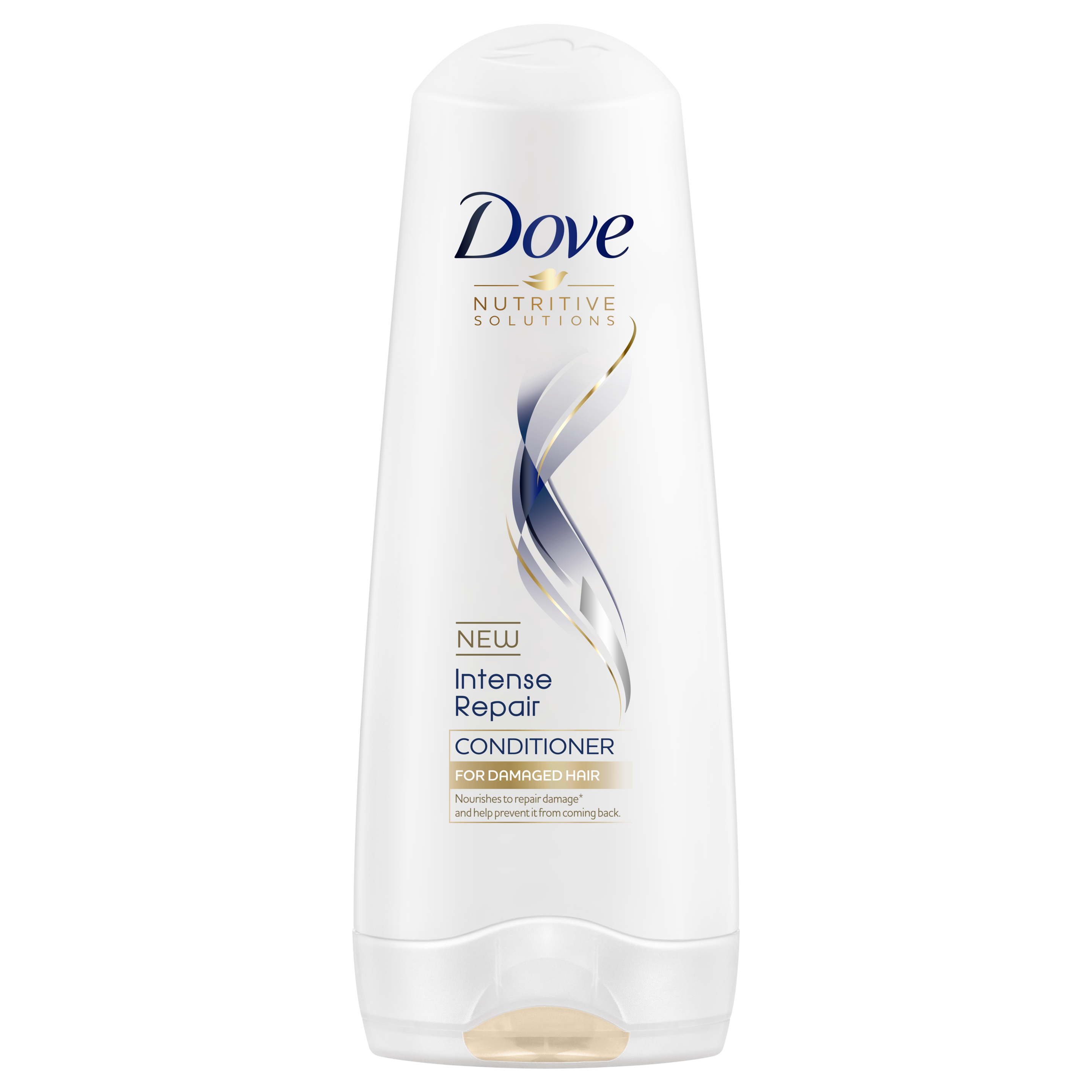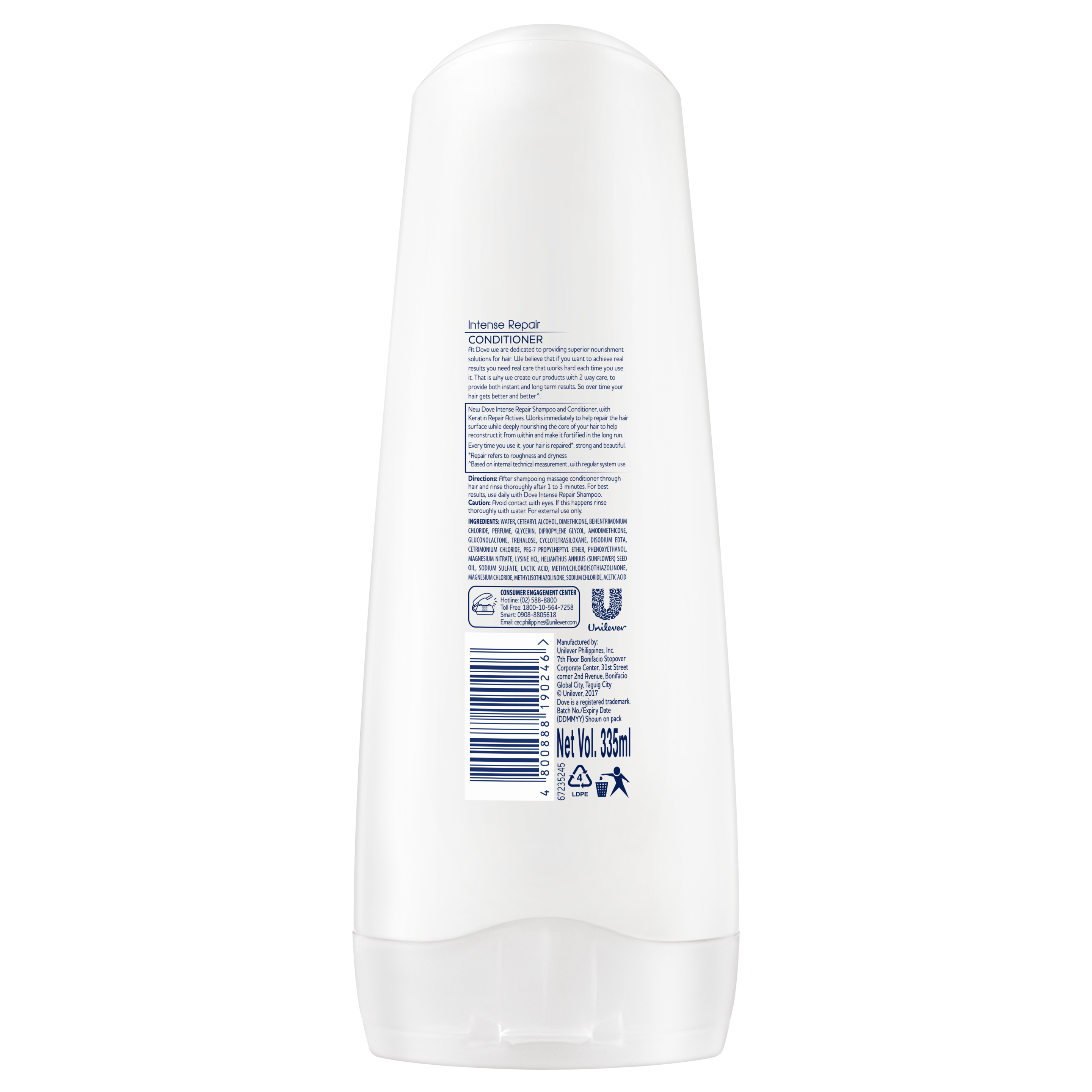 Intense Repair Conditioner
Our most effective damage care conditioner yet. Dove Intense Repair Conditioner is the damage repair conditioner that helps nourish hair and visibly repair damage, so hair becomes healthy and strong. This is Dove's best damage repair conditioner for your hair. Defy damage by using Dove's protective conditioner at home for beautiful hair. It comes in different sizes and includes the Dove Intense Repair Conditioner sachet.

• Keratin-Actives help repair damage deep inside hair

• Visibly repairs signs of surface hair damage

• Nourishes damaged hair

• Makes hair feel smoother, helps detangling and improves manageability

• Gives both instant and progressive results with continuous use

• Gentle cleansing everyday


Looking for the conditioner for damaged hair? From styling to changes in the weather, our hair goes through a lot every day – but with the right products you can have nourished hair, inside and out. We've created Dove Intense Repair Conditioner to smoothen, visibly repair damage and strengthen against breakage. Even the most damaged hair can look healthy day after day.

We know that damaged hair care should go beyond removing the outward signs of damage, which is why this Dove conditioner is formulated to nourish and help restore hair from deep inside . Formulated with Keratin-Actives, Dove Intense Repair Conditioner repairs the signs of damage to the hair surface and, with continued used, penetrates the hair strands to  nourish, making hair stronger against breakage, more beautiful and visibly healthier with every wash.

Note: For comprehensive benefits, use with Dove Intense Repair Shampoo 


Water, Cetearyl Alcohol, Dimethicone, Behentrimonium Chloride, Perfume, Glycerin, Dipropylene Glycol, Amodimethicone, Gluconolactone, Trehalose, Cyclotetrasiloxane, Disodium EDTA, Cetrimonium Chloride, Phenoxyethanol, PEG-7 Propylheptyl Ether, Magnesium Nitrate, Helianthus Annuus (Sunflower) Seed Oil, Sodium Sulfate, Lactic Acid, Methylchloroisothiazolinone, Magnesium Chloride, Methylisothiazolinone, Sodium Chloride, Acetic Acid


• Nourishing damaged hair 
Dove  Intense Repair Conditioner instantly repairs the appearance of damage on the surface of your hair. So whether you've been heat styling or colouring, it'll be left looking and feeling strong, healthy and beautiful

• Progressive nourishment 
Used regularly with our shampoo, our Intense Repair Conditioner continues to improve the condition of your hair over time, so with every wash you're building on your hair's internal strength, leaving it looking and feeling healthy and beautiful.

• Reducing breakages
The last thing we want for damaged hair is to damage it even more – so this conditioner helps to strengthen and reinforce hair against everyday causes of damage.


After shampooing, work Dove Intense Repair Conditioner between your hands and then apply to wet hair, smoothing it in from mid-lengths to tips. Make sure every strand is covered by combing it through with your fingers, leave for 1-3 minutes and then rinse well.


If your damaged hair needs an instant pick-me-up, try our Intense Repair Daily Treatment Conditioner. A dual-phase treatment that intensively conditions extra dry, rough, frizzy hair for amazing smoothness and shine.  Next generation conditioner boosted with the repairing power of a treatment, Daily Treatment  Conditioner can replace your regular conditioner to achieve amazingly strong, smooth & soft hair. 

When it comes to your body, love the one you're with
Beauty is an all-ages show