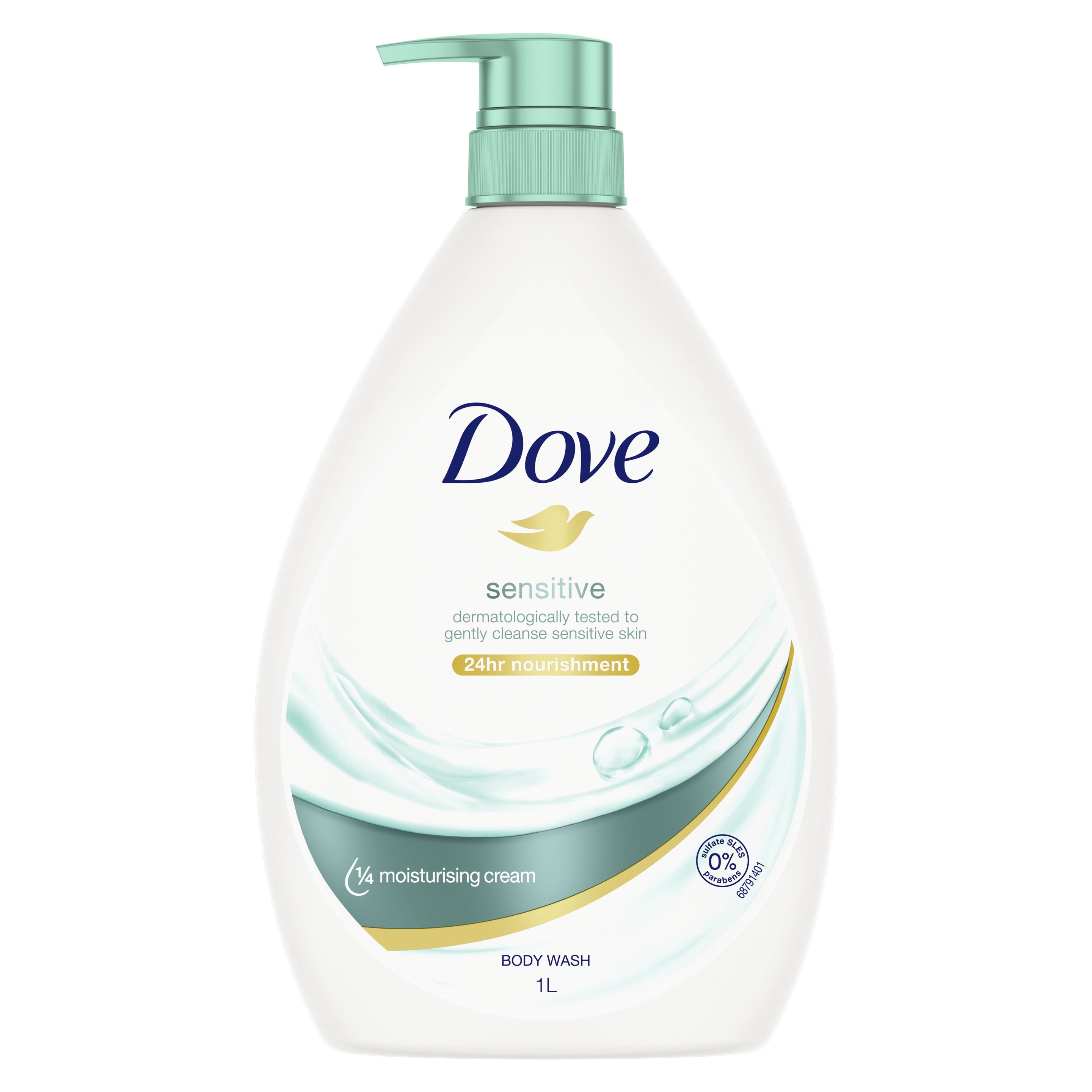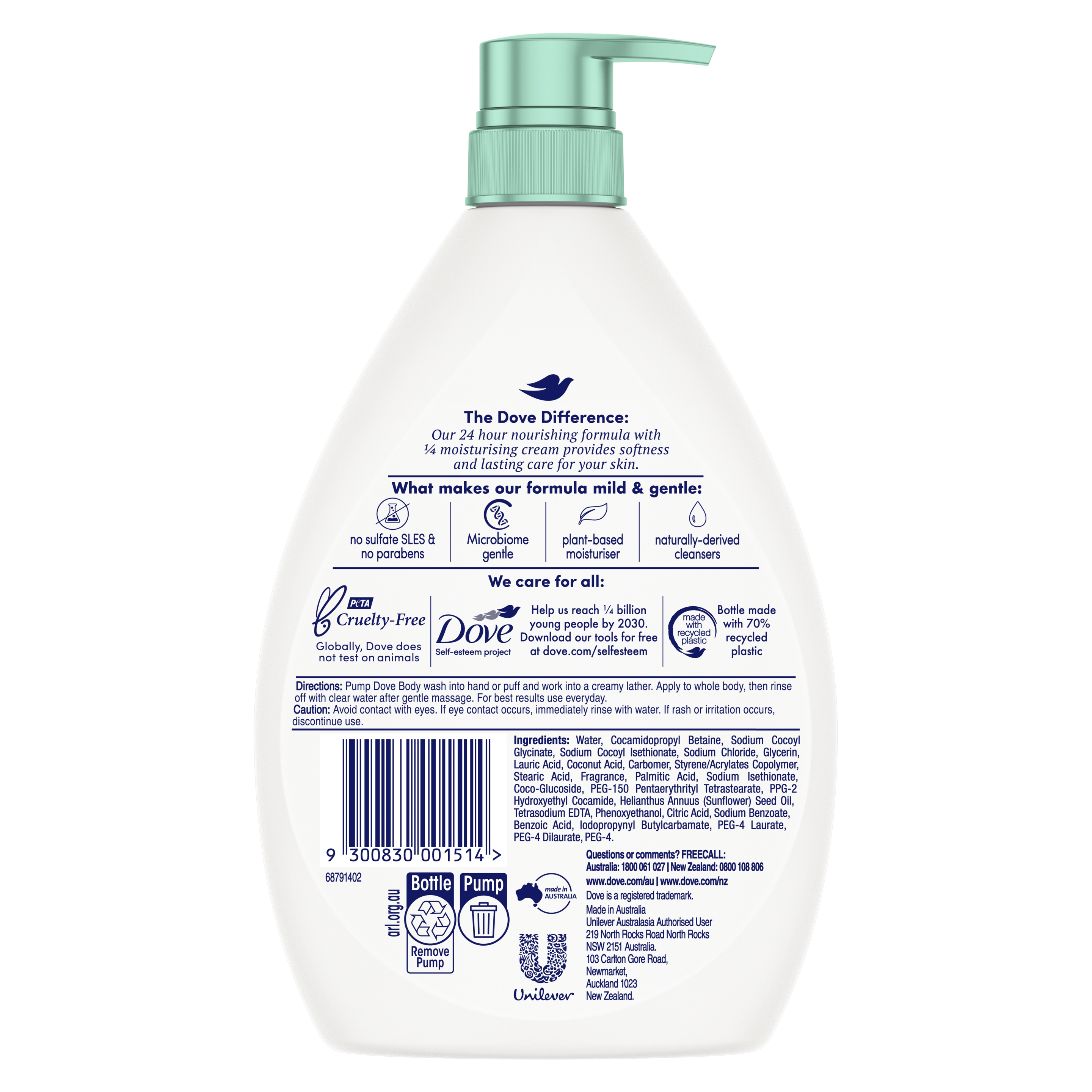 Sensitive Skin Body Nourishing Body Wash 
Nourish and cleanse sensitive skin with our gentle formula.

• Suitable for sensitive skin

• Gives you softer, smoother skin after just one shower

• NutriumMoisture™ technology delivers skin natural nutrients

• Nourishes deep into the surface layers of your skin

• Minimises skin dryness 

• Mild, gentle formula is kind to your skin


Those of us with sensitive skin know all too well that it needs special care. A good sensitive skin body wash is designed with the needs of delicate skin in mind. And we know one that fits the bill: Dove Sensitive Skin Body Nourishing Body Wash, a dermatologist-recommended, hypoallergenic body wash that looks after sensitive skin whilst still providing the rich lather that we all love.

Dove doesn't leave skin stripped of nutrients after washing. That's because the formula has mild cleansers, to help your skin retain nutrients as you shower, as well as NutriumMoisture™, which replenishes any nutrients that are lost. It helps to maintain your skin's moisture barrier as you wash and leaves you with softer, smoother skin after just one shower. Dove Sensitive Skin Body Nourishing Body Wash is our best body wash for sensitive skin. 


Water, Glycerin, Cocamidopropyl Betaine, Sodium Laureth Sulfate/Sodium C12-13 Pareth Sulfate*, Sodium Hrdroxypropyl Starch Phosphate, Helianthus Annuus (Sunflower) Seed Oil, Sodium Cocoyl Glycinate, Hydrogenated Soybean Oil, Lauric Acid, Sodium Lauroyl Isethionate, Fragrance, Sodium Chloride, Stearic Acid, Guar Hydroxypropyl Trimonium Chloride, Sodium Palmitate, Sodium Isethionate, Sodium Stearate, Sodium Palm Kernelate, Myristic Acid, Capric Acid, Coconut Acid, Citric Acid, Bht, Methylisothiazolinone, Dmdm Hydantoin, Tetrasodium Edta 
*Used Interchangeably


• Sensitive skin
Hypoallergenic and dermatologist recommended, Dove Sensitive Skin Body Nourishing Body Wash is kind to skin, so if yours is sensitive, this might be a good choice. It's unscented and uses mild cleansers, so you'll get the rich, creamy lather you love, with care you can trust 

• Nourishing dry skin
If you're prone to dry skin, not only do you need a cleanser that won't dry it out any further – you need one that will nourish too. Dove Sensitive Skin Body Nourishing Body Wash features our gentlest cleansers along with NutriumMoisture™ technology, a unique blend of moisturisers and skin natural nutrients that improves the condition of your skin, leaving it nourished and feeling soft and smooth


First squeeze your body wash into your hands and work it into a creamy lather. Massage it gently over your skin before rinsing thoroughly with warm water.


If your skin is easily irritated and feels dry after showering, try using warm water, instead of hot. Hot water can leave skin feeling itchy, tight and dry.  So for happy, moisturised skin, keep the water warm. 

When it comes to your body, love the one you're with
Beauty is an all-ages show