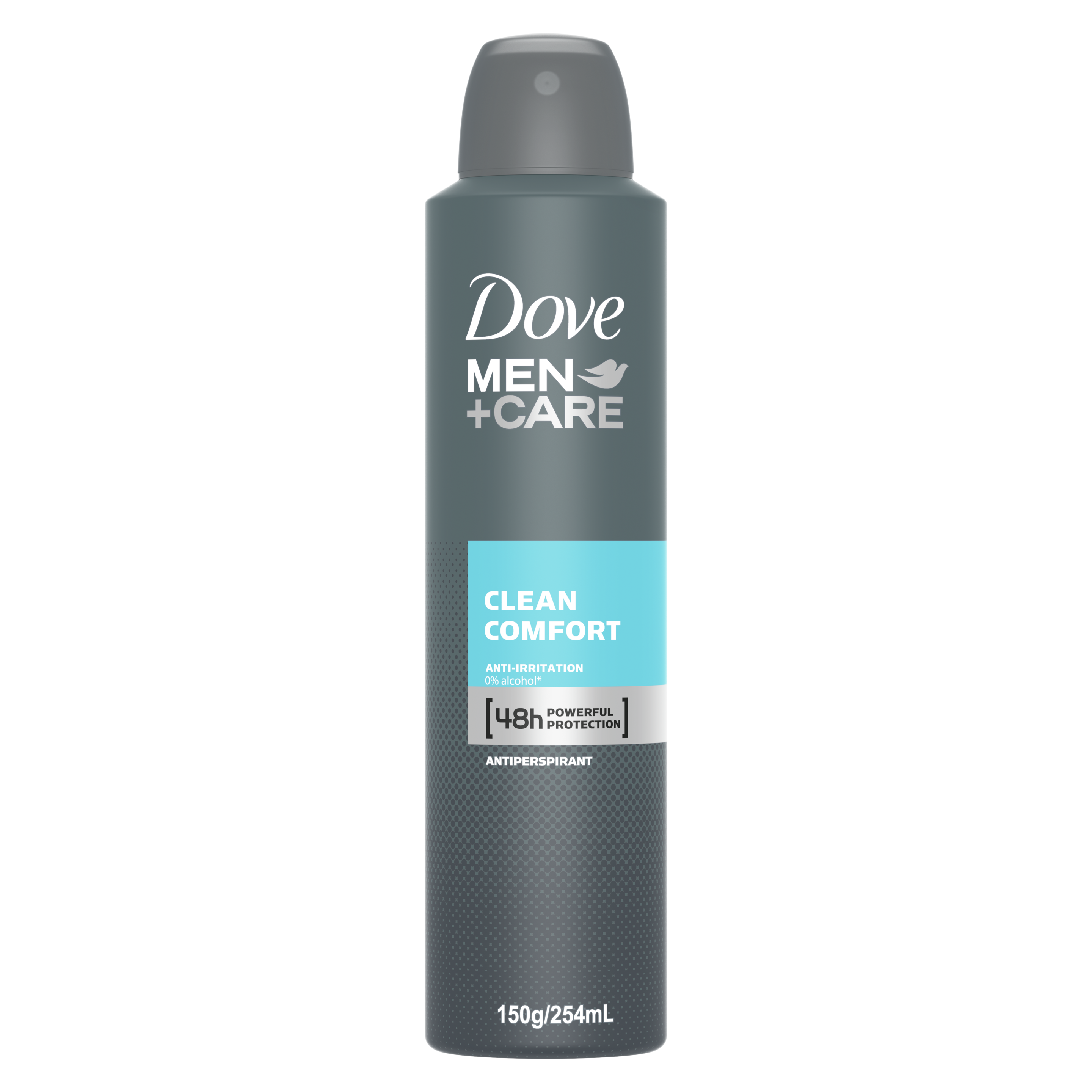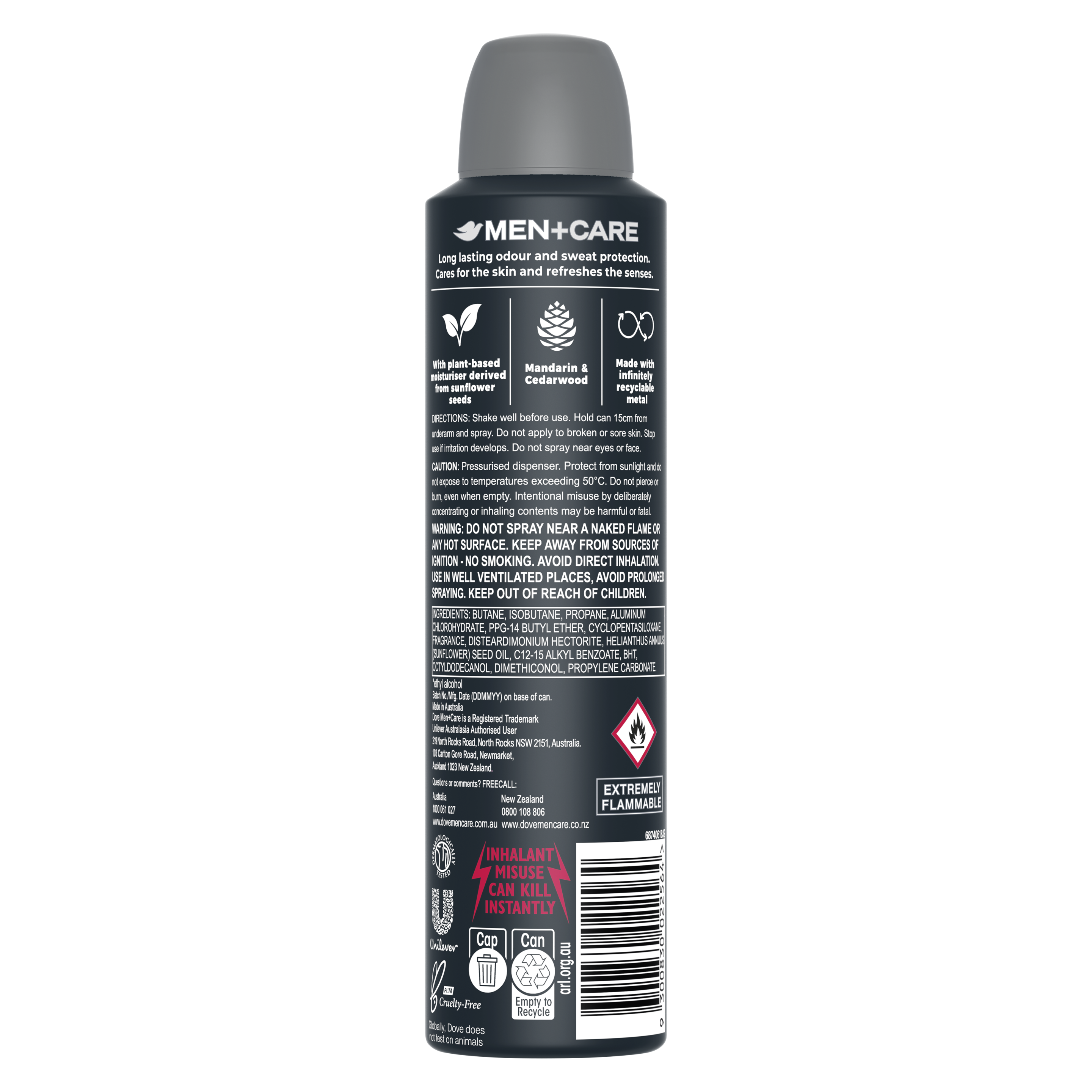 Men+Care Antiperspirant Aerosol Clean Comfort
This strong antiperspirant spray with a subtle scent helps fight sweat and odour for up to 48 hours.

• Tough on sweat, not on skin

• Dermatologically proven

• 48-hour sweat protection

• ¼ moisturiser technology that protects against irritation

• 100% alcohol-free formula

• Subtle scent


Work. Family. Travel. Life is fast-paced. That's why we need an antiperspirant that can keep up.

If you want to stop sweat from dominating your day, try Dove Men+Care Antiperspirant Aerosol Clean Comfort – a strong antiperspirant spray that helps fight sweat and odour for up to 48 hours. Its ¼ moisturiser technology helps protect skin against irritation, meaning you benefit from a dermatologically tested antiperspirant that's tough on sweat, not on skin. Plus, it has a subtle scent that's long-lasting.

So the next time you're powering through your to-do list at the office or playing football with the kids, your sweating will be under control. Finally, you'll have a strong antiperspirant that works as fast and hard as you. Choose Dove Men+Care Clean Comfort to help keep you dry and fight irritation. 


Butane, Isobutane, Propane, Aluminum Chlorohydrate, PPG-14 Butyl Ether, Cyclopentasiloxane, Fragrance, Dimethiconol, Octyldodecanol, C12-15 Alkyl Benzoate, Helianthus Annuus (Sunflower) Seed Oil, Caprylic/Capric Triglyceride, Hydrated Silica, Gelatin Crosspolymer, Cellulose Gum, BHT, Disteardimonium Hectorite


• Reducing sweat 
If you're looking for the best antiperspirant for men, chances are fighting sweat and odour is your top priority. Dove Men+Care Antiperspirant Aerosol Clean Comfort is the answer, containing active ingredients that provide the all-day strength you need to get tough with sweat and body odour

• Long-lasting protection
If you're looking for a reliable product that will help stop sweating, this won't let you down, providing up to 48 hours of protection

• Protecting skin against irritation
Dove Men+Care has fused powerful antiperspirant ingredients with ¼ moisturiser technology, so it protects against irritation as well as warding off dry skin


Shake the can to activate the ingredients. Hold it six inches away from your underarm, making sure you're holding the can fully upright while you're doing it. Apply two or three short bursts of spray – lasting no more than a second or two – and then you're done.


Maximise the technology of Dove Men+Care Antiperspirant Aerosol Clean Comfort by applying at night. Why? The key lies in the condition of your skin; not only is your body's perspiration rate higher in the morning, but a hot shower will also open your pores, making it less receptive to any antiperspirant applied afterwards. Your skin is drier and cooler at night, so it has the best possible opportunity to sink in. 

Cuando se trata de tu cuerpo, ama el que tienes contigo
La belleza es un espectáculo para todas las edades
Todos los cuerpos son hermosos