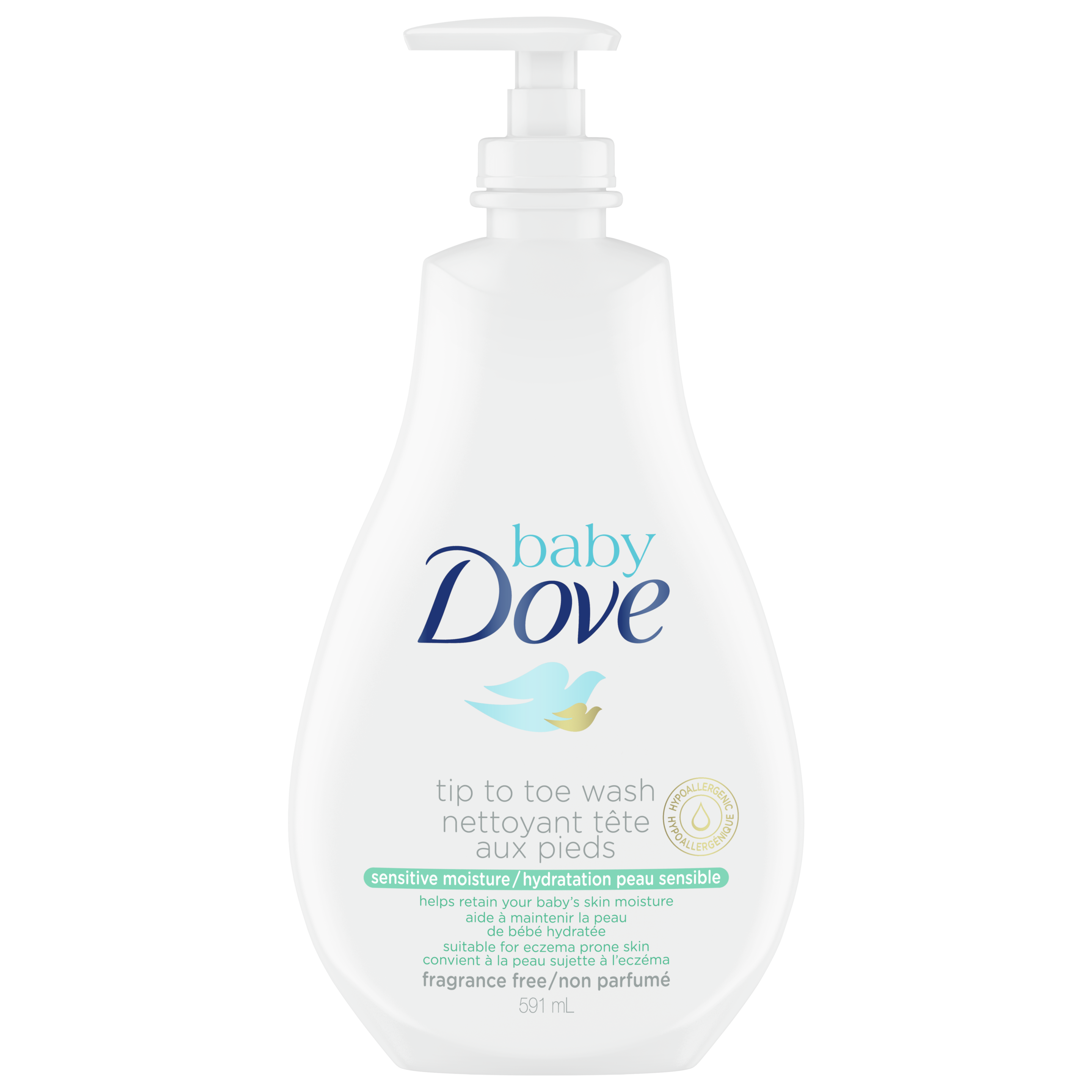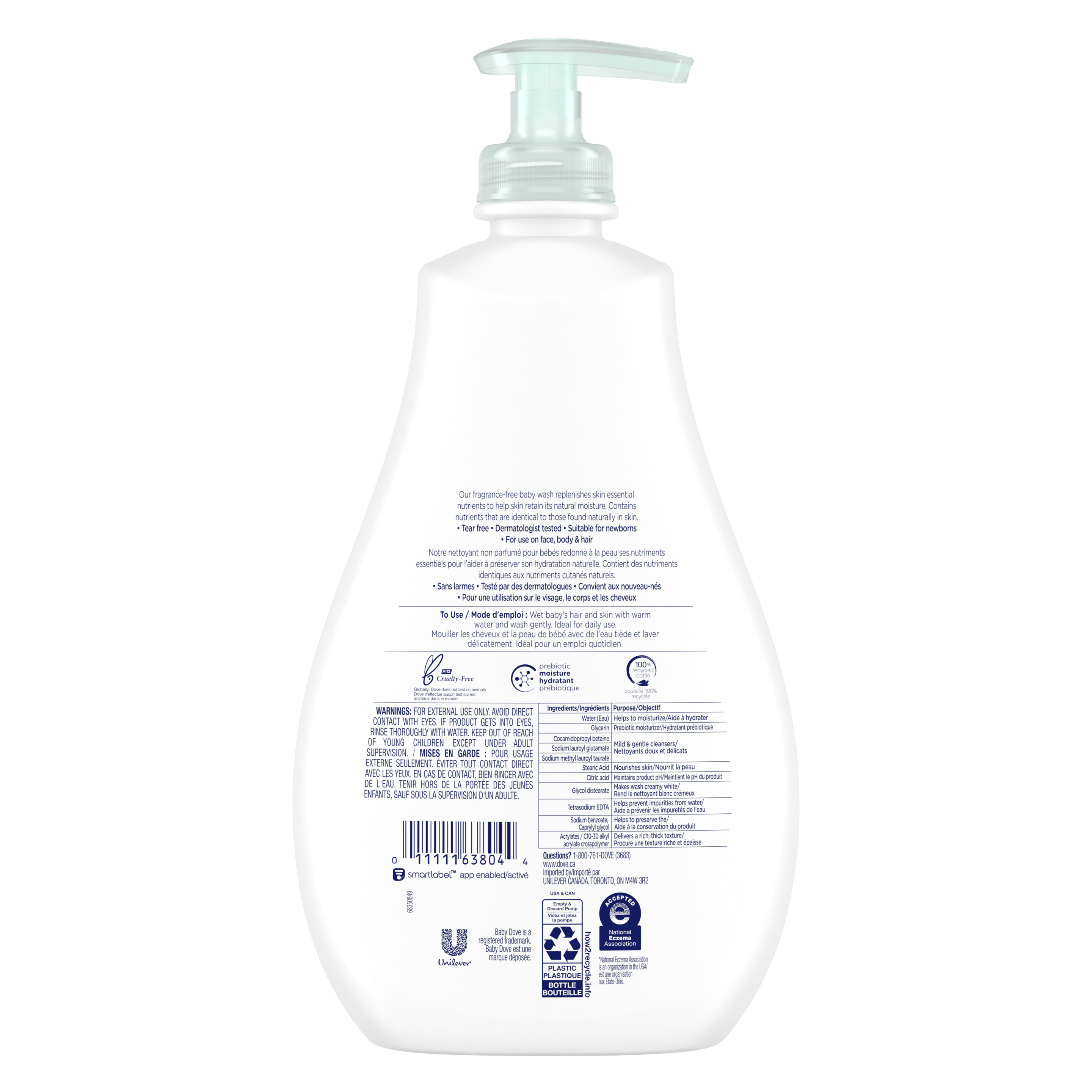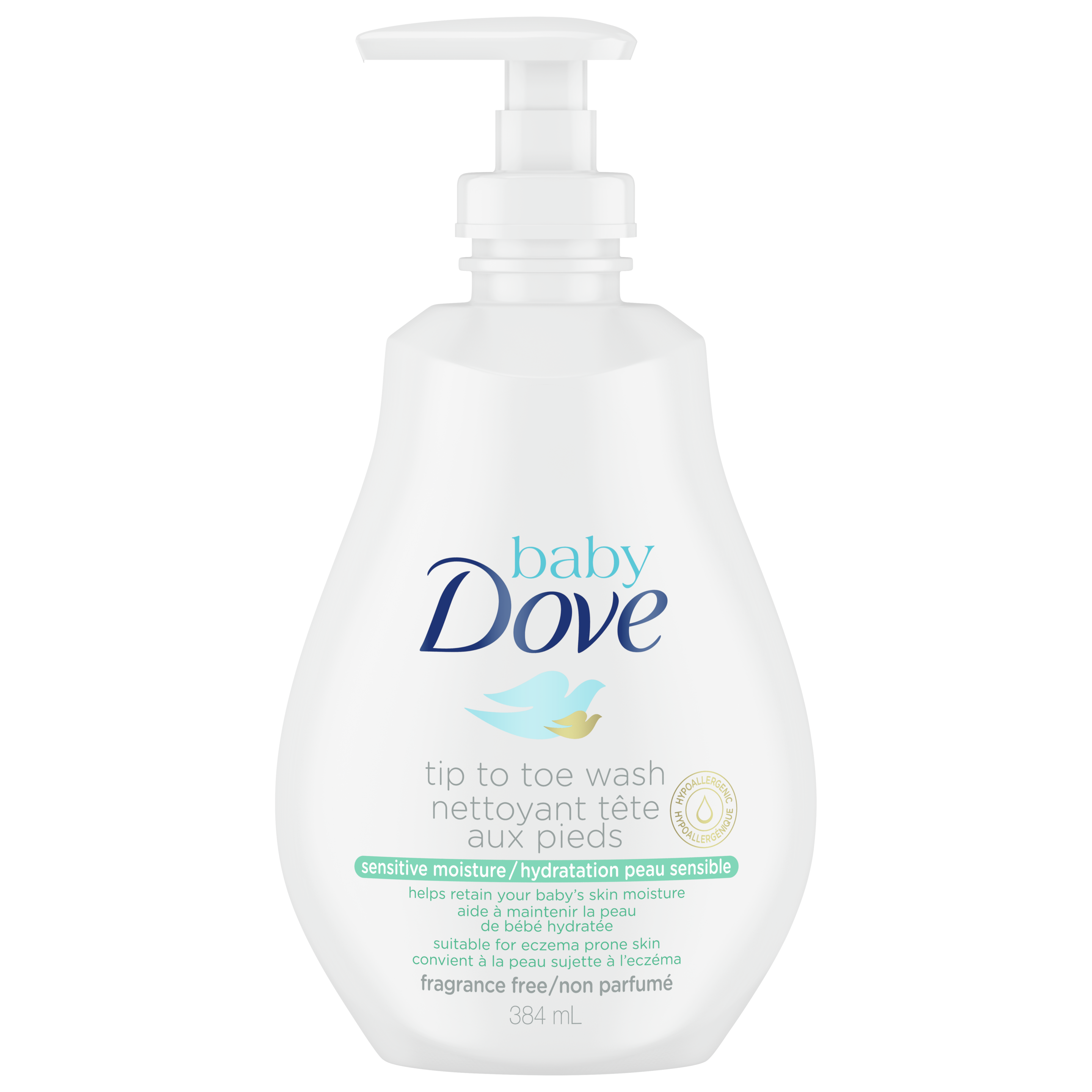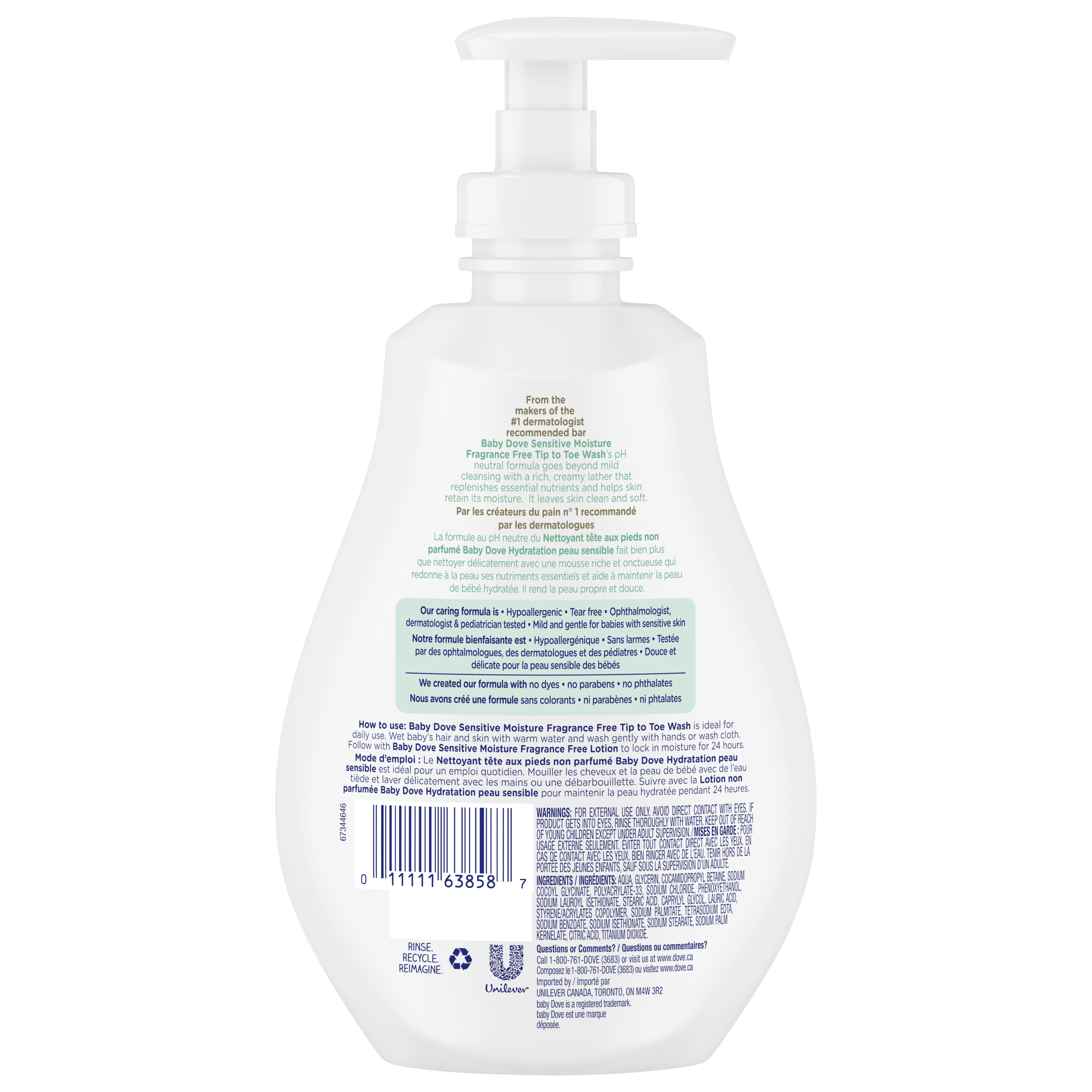 Sensitive Moisture Tip to Toe Wash
This hypoallergenic, tear-free and fragrance free baby wash for sensitive skin gently cleanses to leave your baby's skin feel soft and hydrated.

• As gentle as water, hypoallergenic, pH-neutral and tear-free baby wash and shampoo 

• Made with 100% skin-natural nutrients to help delicate baby skin retain its natural moisture all day long*

• Our caring formulas are created without dyes, parabens, phthalates or sulphates

• Our gentle and safety-tested formula is dermatologist and pediatrician-tested

• Fragrance developed especially for baby's delicate skin 

• Gentle for newborn first bath


A baby's skin is very delicate in the first year. In fact, it's 30% thinner than ours. So if your baby has particularly sensitive skin, you need a hypoallergenic baby wash that's not only mild and gentle but also nourishing. That's why we created Baby Dove Sensitive Moisture Tip to Toe Wash. 

As gentle as water, this pH-neutral sensitive baby wash is ophthalmologist, dermatologist and pediatrician-tested. With our unique ¼ moisturizing cream, the rich, creamy lather helps to retain essential moisture and replenish nutrients that your baby's skin loses during bathing, giving it the care it needs to stay visibily healthy and hydrated. This baby body wash for sensitive skin is fragrance free and specially developed for baby's delicate skin to minimize the risk of skin allergies. Its mild formula means bathtime should be free from tears and all about clean, soft skin.

*Our nutrients are identical to those naturally found in skin 


Aqua, Glycerin, Cocamidopropyl Betaine, Sodium Cocoyl Glycinate, Polyacrylate-33, Sodium Chloride, Phenoxyethanol, Sodium Lauroyl Isethionate, Stearic Acid, Caprylyl Glycol, Lauric Acid, Styrene/Acrylates Copolymer, Sodium Palmitate, Tetrasodium EDTA, Sodium Benzoate, Sodium Isethionate, Sodium Stearate, Sodium Palm Kernelate, Citric Acid, Titanium Dioxide (CI 77891).


• Sensitive skin
Looking for a baby body wash that's kind to sensitive skin? Hypoallergenic pH neutral, and fragrance free, this gentle baby wash is specially developed for baby's delicate skin

• Moisturizing skin 
The creamy lather doesn't just cleanse, it retains essential moisture and replenishes baby's delicate skin with skin-natural nutrients that can be lost during bathtime, leaving skin feeling hydrated, soft, and smooth 

• Tip-to-Toe gentle cleansing
Ophthalmologist, dermatologist and pediatrician-tested, Baby Dove Sensitive Moisture Tip to Toe Wash is safe to use all over your little one, every day. And it's even suitable for newborns


Wet baby's hair and skin with warm water and wash gently with your hands or a soft wash cloth. Follow with Baby Dove Sensitive Moisture Baby Lotion to lock in moisture for up to 24 hours.


For the first baths, use lukewarm water. A good idea is to set the hot water heater below 48°C – that way you won't hurt your baby, or yourself. 

The best way to care for your baby? Your way
There are no perfect mums. Only real ones