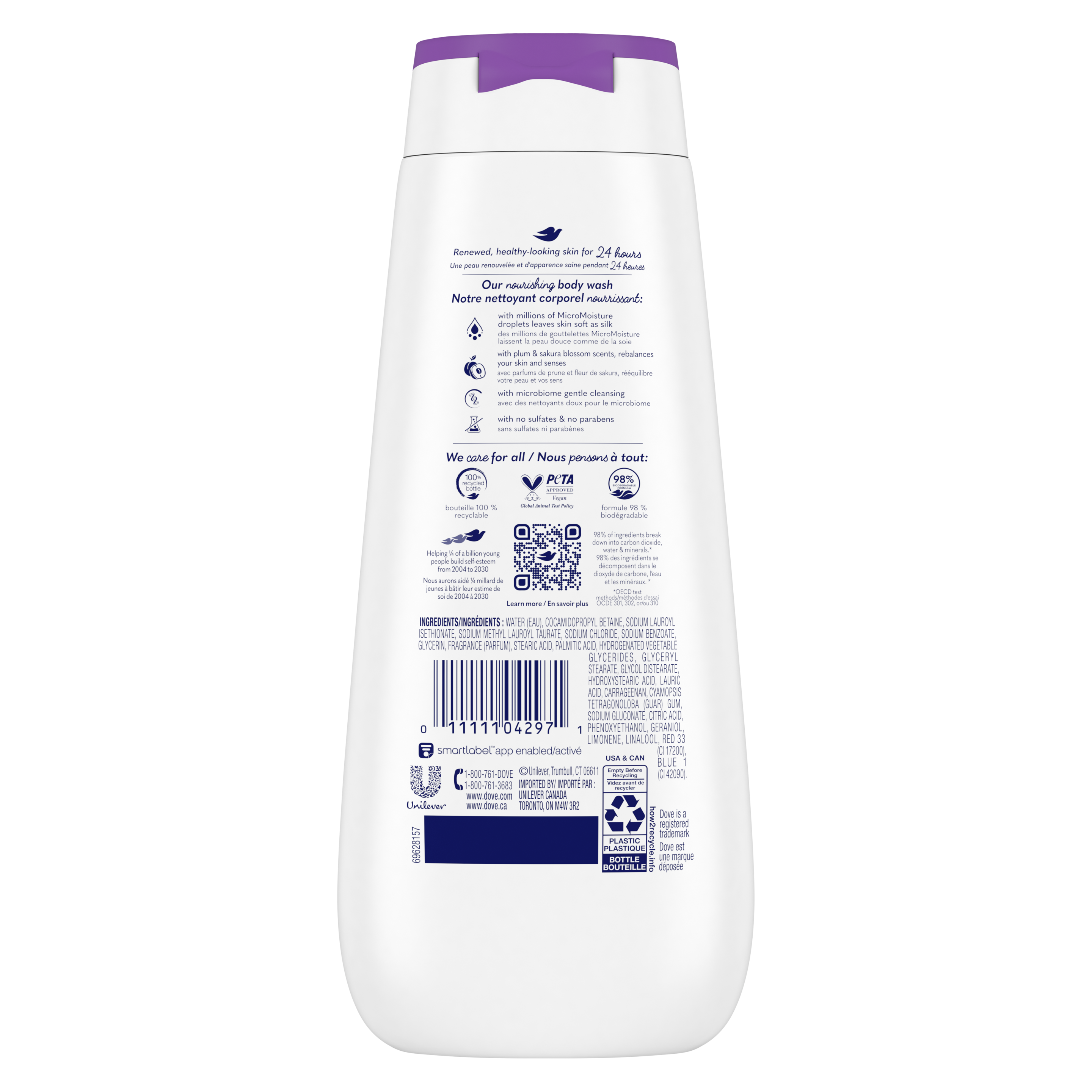 Rebalancing Body Wash with Plum and Sakura Blossom
With exotic plum and sakura blossom extracts, our Rebalancing Body Wash nourishes and replenishes for supple skin.

•Moisturizing body wash leaves skin feeling replenished 

•Made with plum and sakura blossom extracts 

•Moisture Renew Blend technology helps renew skin's natural moisture

•Sulfate-free Dove body wash that's microbiome gentle

•Succulent plum and sakura blossom fragrance to awaken the senses 

•#1 dermatologist recommended body wash brand

•Made with 100% recycled plastic, our bottles are now beautifully unique


When life gets busy, your skin care routine can help you take time to check in with yourself. Combining nourishing Dove technology with the revitalizing scents of succulent plum and sakura blossom, our Rebalancing Body Wash leaves skin feeling soft with a delicate fragrance. 

Infused with our unique Moisture Renew Blend technology, the formula goes deep into skin, working with your skin's own natural processes to help renew and retain natural moisture long after you've finished showering. And, the paraben-free body wash is kind to your microbiome (skin's outer living protective layer) too. Skin is left instantly soft, while this moisturizing body wash gently cleanses and cares for your skin. With an invigorating scent added as a finishing touch, this plum and sakura body wash helps your body and mind switch off from the outside world – you deserve it. 


•Helping to replenish and revive skin 
Wrapping you in a brightly fragranced, bubbly lather, our sakura blossom and plum body wash gives you a moment of relaxation. Uplifting you with a revitalizing scent, it lets you step out the shower feeling relaxed and revived with supple skin.

•Long-lasting nourishment 
Formulated with our unique Moisture Renew Blend, the formula helps skin retain its natural moisture. Nourishing deep beyond the surface layers, our moisturizing body wash works with your skin for care that lasts long after you've showered.

•Gentle skin care
Microbiome gentle, sulfate- and paraben-free: body wash like this has been made especially for gentle care. And while cleansing your skin's outer living protective layer, the formula respects your skin's delicate pH balance.


To use, squeeze this sakura and plum Dove body wash onto a loofah or lather between your hands. Then, smooth the formula over your body before rinsing with warm water to reveal softer, smoother skin.


There's nothing like a hot shower to help take the day off, but it's not so good for your skin. High temperatures can melt away your skin's protective lipid layer, which helps your skin retain water and stay soft and smooth. So, stick to warm water in your shower and you might just notice a difference. 

When it comes to your body, love the one you're with
Beauty is an all-ages show